Countertops & Furniture
Are you looking for a unique, one of a kind finish on your counter tops or furniture. Epoxy can be an affordable way to achieve a stone coat finish or something more playful. There really are no limits. This can be placed over existing counters on site (for an upcharge depending on distance) or we can bring your items to our shop to complete the Epoxy process there.
We definitely plan to move into river pours so if you have a great piece of wood that you would like to use as furniture please keep us mind as your finishers. We can take natures amazing piece of work to another level that will have everyone talking.
Contact us at Denisepours@gmail.com to get a free estimate and explore the possibilities. Find the wood bar stools and pub table in the wall art section to see stock currently for sale.
Dining room make over
From the island to the 24' x 48' art work, we did it all. Each project is a labor of love and a great representation of just how beautiful and special this product can be. Your imagination is truly the only limitation.
On the practical side, this product is heat tolerant up to 500 degrees and after the 30 day fully cured period can withstand heavy objects placed or dropped on it. Like many surfaces, sharp objects will scratch but unlike many surfaces this can be brought to a beautiful honed look while maintaining all the color and detail over and over again. Call for an appt and we will share all the facts with you about this amazing product and our process.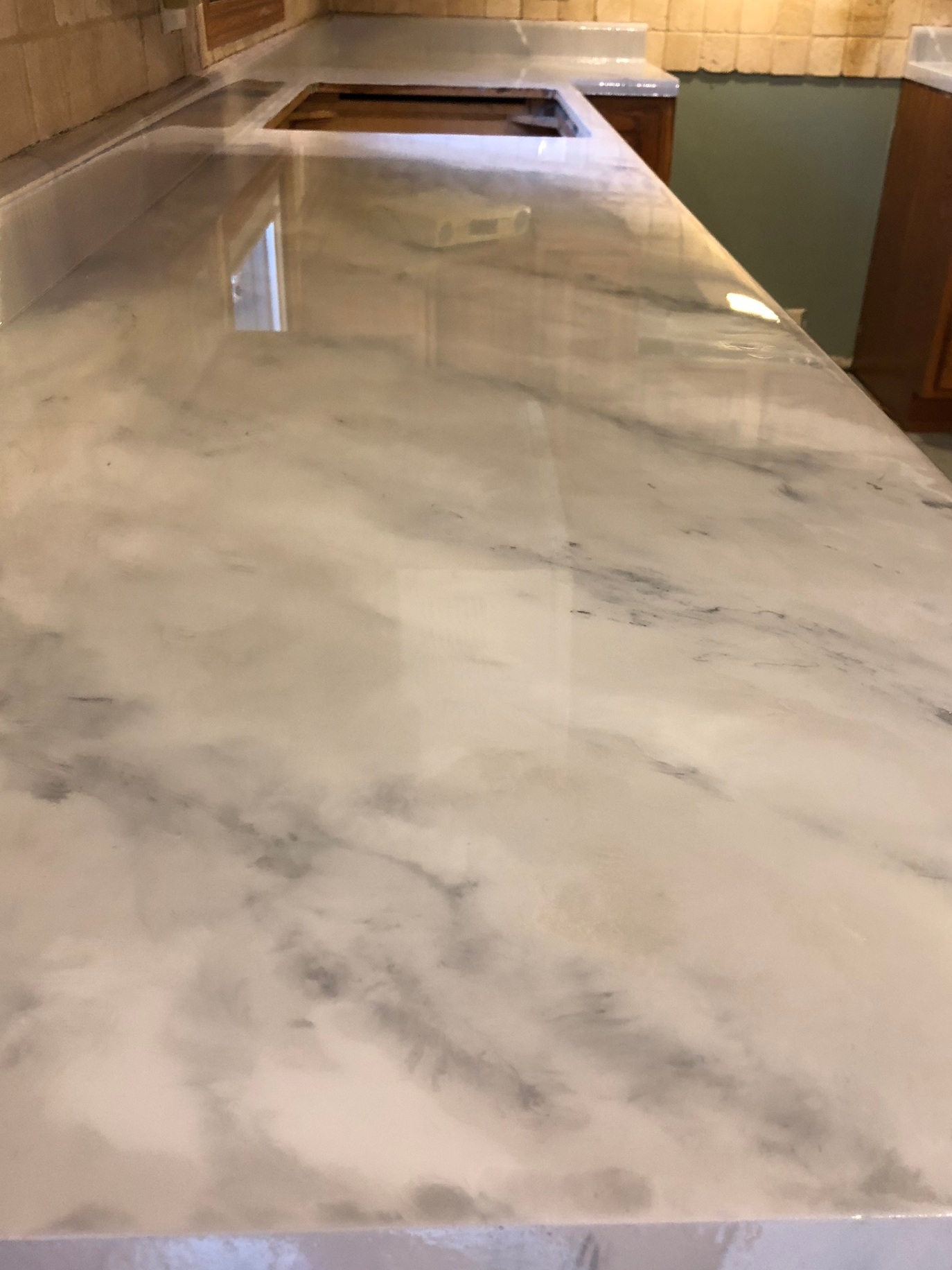 Buffet top
Subtle and sophisticated. These super light grays give movement without taking away from other highlights in the room. Due to the high shine, there really is no way to get a good photo without the light showing up in the middle and edge. Please forgive the glare.
Close up of the Island pictured above
Pub Table
This two by two table top was poured with a desire to add interest and color without being to over the top. Really takes you on vacation just looking at all the movement in the pour.